Nonprofit leaders from Seattle and San Francisco inaugural appointments establish a community-centric board structure to further Magic Cabinet's mission of championing community-led work.
San Francisco, California – September 5, 2023– Magic Cabinet, a philanthropic foundation committed to catalyzing social transformation, today announced two new additions to its Board of Directors: Trish Millines Dziko, co-founder and executive director of Technology Access Foundation (TAF) in Seattle, and Leticia Landa, executive director of La Cocina in San Francisco, who diversify the board through their community-led nonprofit backgrounds. Trish and Leticia will bring new insights and perspectives to further support Magic Cabinet's work with local communities.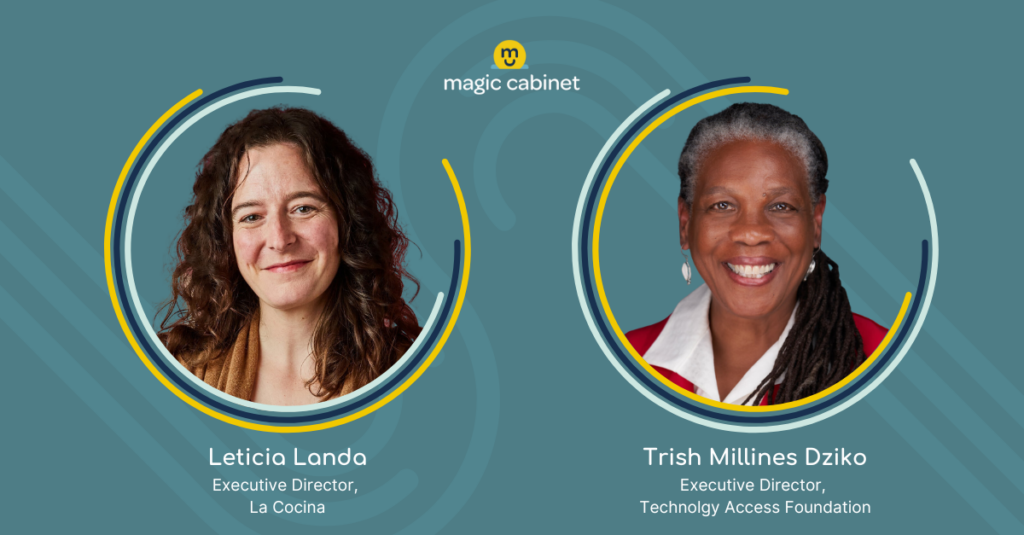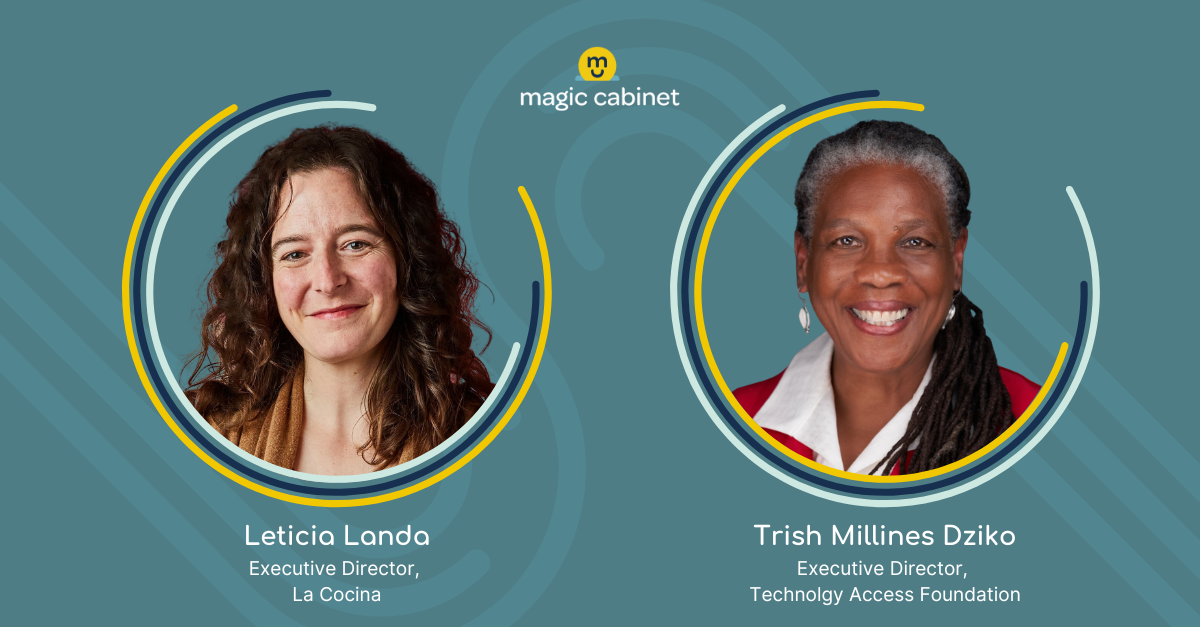 "We are honored to welcome Trish and Leticia to our Board of Directors. They have both been engaged with Magic Cabinet from the beginning as their respective nonprofits were part of our early cohort programs and they bring a wealth of industry knowledge and local community experience," said Ken Birdwell, Founder and Board Chair at Magic Cabinet. "Magic Cabinet's mission is to open new paths for philanthropy and ensure local nonprofits and donors make a lasting impact on their communities. We truly believe that having board members who are deeply engaged in the communities we serve will provide unmatched awareness and understanding that will help guide us on what local nonprofits need to succeed."
TAF, a member of Magic Cabinet's pilot cohort in Seattle, partners with public schools, universities, community, and corporate partners to create access to transformative systems of learning for teachers and children of color in Washington State. Before co-founding TAF in 1996, Trish spent most of her career at Microsoft, where she founded Microsoft's first Black employee resource group. Trish currently serves on the boards for InvestED, Seattle Foundation, and the National Charter Collaborative.
"I've been working with Magic Cabinet and Ken Birdwell since the foundation's inception and have always respected how the team prioritizes collaboration, the goals and voice of grantees, and serving marginalized communities. By joining the board, I hope to add to the expertise already found in its members and help Magic Cabinet on its mission to transform philanthropy and resource nonprofits to achieve their missions," said Trish.
La Cocina, a San Francisco nonprofit focused on cultivating low-income food entrepreneurs as they grow their businesses, was part of Magic Cabinet's first cohort in the Bay Area. Leticia joined La Cocina in 2008 as the third staff member and has worked on every aspect of the business from writing grants and developing its incubator program to consulting with national and international food businesses. Leticia currently serves on the Advisory Board of Kitchen Table Advisors and previously held a fellowship with Hispanics in Philanthropy.
"Magic Cabinet has made it possible for several nonprofits to get the resources they need to have a positive impact in the Bay Area and its cohort model is unmatched in the philanthropic industry. I am thrilled to join the board and help the foundation in its efforts to partner closely with nonprofits and enable access to the people and places critical to expansion and success," said Leticia.
###
About Magic Cabinet
Magic Cabinet is a philanthropic foundation that champions communities' work by partnering with nonprofits and philanthropists to achieve community-led and defined impact. We do this through two paths; philanthropic partnerships aimed to release and accelerate funding into communities in addition to our multi-year participatory grantmaking model.
Magic Cabinet's direct grantmaking centers and amplifies the work of community-driven organizations by offering collaborative multi-year capacity-building funding. This results in more equitable and well-resourced nonprofits and neighborhoods. Since 2019, Magic Cabinet has awarded over $45 million to nonprofits in Washington and California.
Magic Cabinet's approach to philanthropy is highly collaborative. We partner with philanthropic funders and community leaders to experiment transparently, learn openly, and bring a flexible approach to philanthropy–committed to centering, listening, and adapting to ever-changing community needs.
 ###